Welcome to our SIGN EDUCATION CENTER! 

Here you will find helpful information to aid in your decision to purchase a sign. As you will see, not all sign types are appropriate for your business, nor are sizes and colors arbitrarily chosen.  You can rely on Ott Sign Company's experienced staff to design and fabricate an effective advertising tool to help your bottom line.  As the company founder was fond of saying, "Our signs can get customers in your door – it's up to you to keep them there!" 
Viewer Reaction Distance
Signs designed to provide information to motorists at roadside must be of adequate size to make it possible for their messages to be read and understood within a time frame consistent with safety and safe driving practices. This time frame, or Viewer Reaction Time, conservatively estimated at ten (10) seconds, represents the amount of time necessary for a driver to see a sign, read its message, assimilate the information conveyed and finally, make the requisite driving maneuvers necessary to act on the information. In other words, to see it and drive into the business.
Negative Space
Negative Space is the open space surrounding lines of type or other graphic elements in a design.  It is essential to legibility, particularly in the case of signs in which a constraining background is used to contain the copy.  Without adequate Negative Space, letter height alone will not provide required legibility.  In the following example, the height of the lettering is the same, yet the first is easier to read because it has more negative space.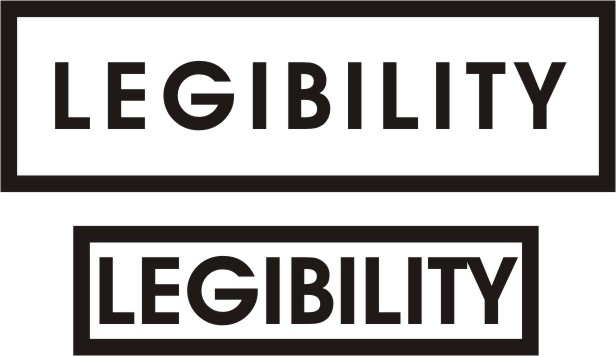 Generally speaking, effective signage should be readable, attractive, and easily distinguished from other elements in the landscape. Thus, although a sign should be compatible with its surroundings, such compatibility must be carefully tempered to prevent the sign from blending in so well as to obscure its message.
One of the most important elements in good sign design is brevity! Signs work best when they work fast; and crisp, concise messages elicit optimum readership. Even with changeable signs, such as those signs that can be used to advertise special sales or events, messages that are short and to the point produce the best results!
UL Listing
An important consideration when choosing a lighted or electrical sign, is for the sign to be UL Listed and produced in a certified listed UL shop. Ott Signs was on of the first in the area to obtain UL Listing status and maintains a continuing education program for its employees to insure they have the latest and most comprehensive understanding of new technology such as LEDs. An Underwriter Laboratory inspector visits our shop on a quarterly basis to make certain our manufacturing processes are kept to the high standards demanded by the agency.
PERMITS AND BUILDING CODES
Ott Signs enjoys a good relationship with most municipalities and governing bodies, including permitting agencies.  Permits are obtained in a professional manner with all necessary documentation including at times, stamped structural engineering drawings. We will work closely with you, your landlord or building owner, and the permitting agency to make sure you get the most effective sign allowed within your budget. This is a very important step in the process, and no manufacturing is started until we are assured the permits are secured.  We have even offered our perspective on planning boards to help draft sensible and effective sign regulations that are business friendly.  Ott Signs has represented several banks and businesses when it became necessary to apply for and receive a variance.
BUDGETS
If you are a first time sign buyer, you may not know what to expect to spend on a sign. Upfront expenditures are usually perceived as high. However, if you put the cost of a new sign in its proper perspective, you will see that it is really very little when compared to the other advertising mediums...and...it is working for you 24 hours a day, 7 days a week! You see, a sign isn't just something with words on it, it is an advertising device! For instance a typical 4' x 8' single sided, lighted wall sign that costs say $1400 with a life expectancy of 20 years, only costs you out of pocket about 20 cents a day! Try to advertise in a newspaper or on the radio for that price!
WHEN YOU CONTACT A SIGN COMPANY, THEY WILL WANT TO KNOW THE FOLLOWING:
What do you want the sign to say?

Where will it be located at your business? Wall, on a pole, on the ground?

Do you have a design or logo? (our graphics department can help you if you don't)

Can you furnish a digital photo of your business?

What is your budget for the project?

When do you need the sign?

What municipality are you in for permit purposes?
OTHER ITEMS YOU WILL NEED TO FIND OUT ARE:
What type of sign does the landlord or shopping center owner require or allow?

Shopping Centers usually have certain sign specifications to follow, and usually have to approve the design; is there a copy of their sign criteria from which to follow?

What is the length and height of the store frontage where your sign will go?

If the business is a franchise, are there certain specifications required for signs such as materials, colors, etc.? Do you have digital files available for construction purposes? If so, from whom?
OTHER ITEMS YOU WILL NEED TO FIND OUT ARE:
As you can see, there are many considerations that go into determining your sign requirements and needs.